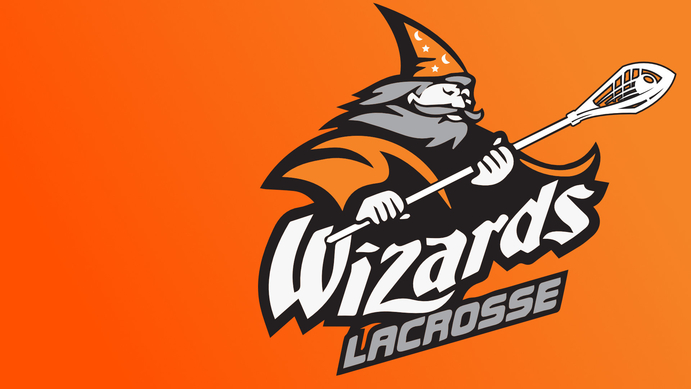 The 2019 team selection will conclude with the Tyke and Novice drafts this coming weekend. All team rosters should be finalized by March 18. The North Edmonton Wizards have historically partnered with the Rams to form teams where there are not enough players to form teams within in a particular division. As well, in 2017 the Greater Edmonton Lacrosse Council (GELC) moved to a zone concept, forming four zones within the GELC. The North Edmonton Wizards are in Zone North which consists of the Rams, the North Edmonton Wizards and Fort Saskatchewan Rebels. These other Clubs play primarily out of the Glengarry Arena and the Jubilee Recreation Centre respectively.
The Zone concept is primarily to generate A level teams at Peewee, Bantam and Midget. However, when a Club does not have enough players to form a team at any level at Peewee, Bantam or Midget, the Clubs within that particular zone work together to generate enough players for each team at every level. This is to ensure that every young athlete who wishes to play lacrosse has a team to play on.
This practice will continue for the 2019 season. Clubs will make every effort to ensure Club integrity is maintained when forming teams however, based on registration numbers and evaluation results there may be a requirement to amalgamate with the other Clubs within our Zone. This could be with the Wizards, Rebels or both.
The identification of the Host Club will be dependant on number of players from each Club on the team as well as coach availability. Where joint teams are formed, practice locations will also be based on team composition and effort will be made to ensure practices rotate between locations equitable.
Once teams are finalized they will be posted on our web page.
If you have any questions or concerns, please contact your applicable Division Director.
******************************************************************************************************************************************************************
Bantam B
Coaches Cris Anderson, Tyler Machado and Jason Schmidt
Club

Player's

Last

Name

Player's

First

Name

Wizards

Bennett

Jackson

Rebels

Jaksitz

Rylan

Rebels

Walsh

Rylan

Rebels

Forte

Jacson

Wizards

Anderson

Tristan

Wizards

Ballantyne

Aidan

Wizards

Herritt

Logan

Wizards

Zilinski

Carter

Wizards

Hansen

Christian

Wizards

Tousignant

Hunter

Wizards

Burke

Carson

Wizards

Slobinyk

Cooper

Wizards

Smyth

Tyson

Wizards

Jones

Jesse

Wizards

Huff

Ginger

Wizards

Schmidt

Dawson

Wizards

Al-Shawwa

Naser

Wizards

Boucher

Leythan

Wizards

Crozier

Noah
Bantam C
Coaches Shawn Innes, Eric Patterson
Club

Player's

Last

Name

Player's

First

Name

Wizards

Fedorak

Benjamin

Wizards

Horne

William

J

Wizards

Labelle

Brandon

Wizards

Menard

Logan

Wizards

Prasad

Nikash

Wizards

Schaaf

Jaydon

Wizards

Christ

Carson

Wizards

Innes

Brandon

Wizards

Perrin

Adrian

Wizards

Schultz

Ethan

Wizards

Kaila

Arjun

Wizards

Eisan

Dax

Wizards

Gaffar

Arvin

Wizards

Sellgren

Adam

Wizards

Kyle

Adam

Wizards

Patterson

Cayden

Wizards

Rose

Avery

Wizards

Squires

Cody

Wizards

Daoust

Zach

Wizards

Bachand

Chase

Wizards

Carriere

Zachary

Wizards

Donecz

Aedyn

Wizards

Gable
Kaeden
******************************************************************************************************************************************************************
Final Zone teams are posted below. Thank you to all of those tried out. If your name is not on the list please report to your home association for B evaluations.
Peewee A Zone Team
Bantam A Zone Team
Midget A Zone Team
2019 Registration Information
Our early bird pricing ends on Monday, February 18, 2019 after which the registration fees for Pee Wee and above will increase by $100.

Mini-Tyke: $99
Tyke: $149
Novice: $229
Pee Wee: $369 (before Feb. 18)
Bantam: $389 (before Feb. 18)
Midget: $429 (before Feb. 18)
Post Midget: $600
NOTE: There will no longer be a Wizards Junior Program. Please visit the RMLL website for Clubs offering a Junior Program.

We will be offering the option to pay out the volunteer commitment again this year however, it has increased to $200/player to a maximum of $400/family payable with your registration.
Volunteer opportunities with the Wizards include: Head Coach, Assistant Coaches, Team Managers, Jersey Parents, helpers for the AGM and current Wizards Board Members.
Volunteer deposit cheque for $200 will need to be mailed to P. O. Box 30977 Namao Centre, Edmonton, AB T5Z 3P3 or dropped off at the in-person registration or on the first day of evaluations.

If you intend to tryout for 'A' please select that option on the registration page. Information on the 'A' tryouts will be posted on the Rams website.

Players will not be allowed on the floor for evaluations if there are outstanding fees or volunteer deposit cheques have not been received. This is a liability issue as players with unpaid fees are not covered by insurance.

Registration Link: http://wizardslacrosse.rampregistrations.com/
For more information please contact:
Robyn Bilsky, Registrar
registrar@wizardslacrosse.ca
For the most up-to-date information, please click on the 2019 Quick Link Button located on the Home Page or click here:
ALA Camps
Edmonton Camps
Novice and Pee Wee Development Camp
For male and female box player and goalies, born in 2007, 2008, 2009, 2010!
Get your lacrosse sticks and spend two full high tempo days with working on your passing, shooting, ball handling, and gameplay. Learn offensive techniques, defensive play, and transition skills. There will be specialized instruction for all goalies. Campers will receive an ALA pinnie. Goalies receive ALA socks.
Cost: $150 for the two-day camp
Location: Edmonton South Side Soccer Center
Date: March 25th and 26th, 2019
Time: 9 am to 4 pm both days
GOALIE CAMPS
Goalies who have three or less years of experience may sign up for these basic lessons. Items covered will be equipment, how to get dressed properly basics of covering the net and making passes.
On Saturday March 30th we will host one sessions at Coronation Rink behind Westmount mall and Ross Sheppard High School
Novice and Pee Wee goalies, 15 goalies a session max
please sign up here for one of the two sessions click on the times to sign up.
On Sunday March 31 we will host two sessions at Coronation Rink behind Westmount mall and Ross Sheppard High School
Pee Wee, Bantam And Midget Goalies goalies a session max
Please sign up for one of these two sessions